Teen Receives Associate's Degree before High School Diploma

May 24, 2022 -- Posted by: maegan.martin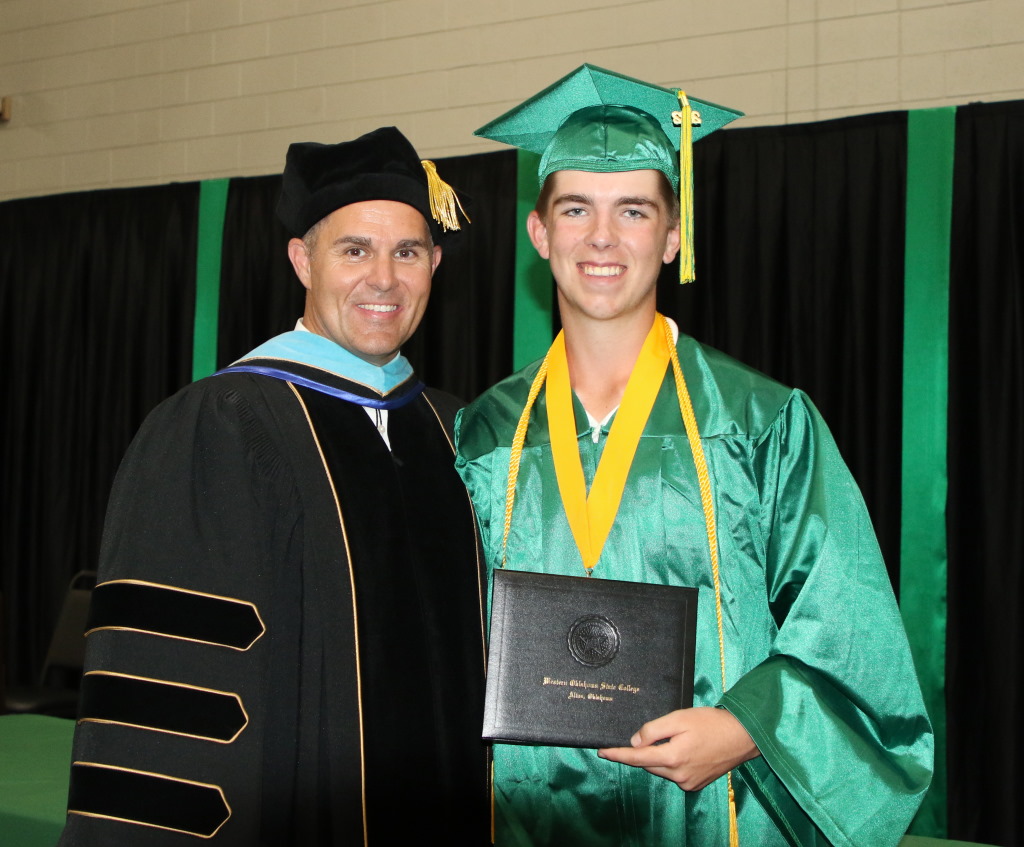 ALTUS, OK. –On Friday, May 13, 2022, Trace Thomason graduated from Western Oklahoma State College as a 4.0 honor graduate, earning his associate's in business administration, two days prior to graduating as the valedictorian of his senior class at Indiahoma High School. While this accomplishment came after a busy two years, the Thomason family is thankful for the opportunity high school concurrent enrollment provides.  
Trace began taking high school math courses in the 7th grade, so by the time he was a freshman he had completed his high school math requirements. Once concurrent courses were an option, his junior year, Trace had completed most of his high school requirements which allowed him to enroll in 12-13 hours each semester, which is the equivalent of a full time college schedule. He took his courses online, and said instructor Misty George was very helpful during this process. She followed along during his journey and when she realized her business statistic class was a requirement for his degree, she created an online course to ensure a successful outcome for his goal.
While in high school, Trace was involved in FFA, serving as president and showing livestock, participated in basketball, qualified for the state golf tournament and led the academic team as the captain.  When asked how he was able to juggle being so involved and keeping up with his course workload, Trace said he really had to focus on time management. He knew when the deadlines were, utilized the calendar within the learning management system, and knew how many hours he needed to spend on homework to complete the assignments on time. His mother, Carrie Thomason, said, "He is very self-motivated and used the weekends to get caught up on homework." Trace said he is also so thankful for the instructors at Western. "They were always willing to work with students and their activities, as long as they knew ahead of time," said Trace.
Many people have asked him and his family why he decided to take so many hours while in high school. The answer to him was simple. It is smart. He wanted to complete his associate's degree to guarantee a seamless transition to a university. Trace said, "I want to thank my mom for pushing me to get it done. I couldn't have done it without her support".
When asked what advice he would give high school students considering concurrent enrollment he said, "Get as much done as you can. It will give you more freedom when you're in college. You won't be as stressed." Trace plans to attend Oklahoma Wesleyan University in Bartlesville, Oklahoma this fall as a member of the golf team. He will double major in Sports Management and Sports Marketing with the dream of one day working for the OKC Thunder organization. "Handing Trace a Western diploma before he actually received his high school degree was a surreal moment for me.  We talk about the possibility of this happening all the time but watching it come to fruition was a special moment.  Concurrent enrollment is an amazing program and Western takes great pride in the services we provide to these high school juniors and seniors" said Dr. Chad Wiginton, President of Western Oklahoma State College.  
Concurrent enrollment is the opportunity for high school seniors and juniors to earn college credit while still in high school. Concurrent students may attend courses on Western's campus, online, or virtually at their own high school (select locations by arrangement). If the student meets the academic requirements, a portion of their tuition is waived. Juniors are eligible for a maximum of nine credit hours of tuition waived and seniors are eligible for a maximum of eighteen credit hours of tuition waived for the academic year. Students are responsible for course fees and textbooks. The program not only helps students get ahead on their college credits, it potentially saves thousands of dollars. If you are interested in learning more about the concurrent enrollment program at Western, visit wosc.edu/concurrent.